| | |
| --- | --- |
| | - |
30 roller coasters in eight different parks in five countries, a total of 18.1 coaster kilometers or 54 minutes of ride time. Inbetween 3000 km of highway - all that in 48 hours. Impossible? The Six Flags European Division tries to produce the counter evidence this week when the 48h Roller Coaster Challenge will start in Biddinghiuzen, Netherlands on 14 May 2004.
On thursday evening the hardcore coaster fans have to undergo a medical examination before the challenge will start exactly at 8 o'clock the following morning. 20 riders from eleven fan clubs will try to "work off" all the steel giants and wooden monsters of the Six Flags european park chain as quickly as possible. They will be accompanied by nine winners of media events. A coach will bring them directly to the coasters, and after one successful ride the trip will go on without a pause - the schedule is pretty tight.
| | | |
| --- | --- | --- |
| | . | |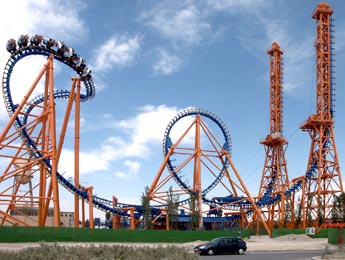 The Stuntfall will be the last roller coaster on the 48h tour
Picture: Vekoma Rides Manufacturing
The idea for this emerged last year in cooperation with the European Coaster Club (ECC), Europe's biggest roller coaster fan club. At that time there was no telling that Six Flags would sell off their European Division. By now seven of the eight parks belong to the British investment group Palamon, only Warner Bros. Movie World Madrid remained untouched by the sale. But name changes and restructuring won't happen before the 2005 season. The Roller Coaster Challenge, too, will be carried out as planned. It is supposed to be the highlight of the Roller Coaster Month which is held by the parks in May, including different events and exhibitions.
More than ten different kinds of thrill machines await the fans, from a Mega Coaster over Inverters and Woodies to Zierer Family Coasters. The last one to be conquered will be the Giant Inverted Boomerang Stunt Fall at the Spanish Movie World shortly before eight on sunday morning. And you can track whether this daring project will succeed live here on Coastersandmore.com. One of our editors will go with the coach and report in words and pictures directly from the route. In addition, a live ticker will provide information on the 30 coasters. You can look forward to the trip and keep your fingers crossed for the participants. Reporting will start on thursday evening from the Netherlands...
| | | |
| --- | --- | --- |
| | . | |
| | | | | | |
| --- | --- | --- | --- | --- | --- |
| Six Flags Holland | | | | | |
| | Superman the Ride | Vekoma | Linear Synchron Motor (Launch) | 1000,00 m | 02:22 minutes |
| | La Via Volta | Vekoma | Boomerang | 266,70 m | 01:48 minutes |
| | Road Runner Express | Zierer | Tivoli - Medium | 198,70 m | 00:45 minutes |
| | Flying-Dutchman | Mack | Wilde Mouse | 370,00 m | 02:00 minutes |
| | Robin Hood | Vekoma | Wooden Coaster | 1035,00 m | 01:46 minutes |
| | El-Condor | Vekoma | Suspended Looping Coaster | 662,00 m | 02:05 minutes |
| | Goliath | Intamin | Megacoaster | 1214,00 m | 02:30 minutes |
| | | | | | |
| WBWM Germany | | | | | |
| | Coyote's & Roadrunner's Rollercoaster | Vekoma | Junior Coaster | 207,00 m | 02:30 minutes |
| | Tom & Jerry's mouse in the house | Mack | Wild Mouse | 370,00 m | 02:00 minutes |
| | Wild Wild West | Intamin | Wooden Coaster | 1099,00 m | 03:00 minutes |
| | Eraser | Vekoma | Suspended Looping Coaster | 661,40 m | 02:05 minutes |
| | Lethal Weapon Pursuit | Intamin | Twin Looping Coaster | 609,60 m | 03:10 minutes |
| | | | | | |
| Six Flags Belgium | | | | | |
| | Cobra | Vekoma | Boomerang | 266,70 m | 01:48 minutes |
| | Turbine | Schwarzkopf | Shuttle Loop | 220,10 m | 00:35 minutes |
| | Calamity mine | Vekoma | Mine Train | 785,00 m | 02:50 minutes |
| | Loup Garou | Vekoma | Holzachterbahn | 1035,00 m | 01:04 minutes |
| | Vampire | Vekoma | Suspended Looping Coaster | 661,40 m | 02:05 minutes |
| | | | | | |
| Bellewaerde Park (Belgium) | | | | | |
| | Keverbaan | Zierer | Tivoli - Large | 360,00 m | 01:00 minutes |
| | Boomerang | Vekoma | Boomerang | 266,70 m | 01:48 minutes |
| | | | | | |
| Walibi Lorraine (France) | | | | | |
| | Anaconda | SPIE | Wooden Coaster | 1200,00 m | 02:30 minutes |
| | Comet Space | Vekoma | Hurricane | 525,00 m | 02:00 minutes |
| | | | | | |
| Walibi Rhone-Alpes (France) | | | | | |
| | Boomerang | Vekoma | Boomerang | 266,70 m | 01:48 minutes |
| | Coccinelle des Andes | Zierer | Tivoli - Large | 360,00 m | 01:00 minutes |
| | | | | | |
| Walibi Aquitaine (France) | | | | | |
| | Boomerang | Vekoma | Boomerang | 266,70 m | 01:48 minutes |
| | Coccinelle | Zierer | Tivoli - Large | 347,35 m | 01:00 minutes |
| | | | | | |
| WBMW Madrid (Spain) | | | | | |
| | Tom y Jerry | Zierer | Tivoli - Large | 280,00 m | 01:00 minutes |
| | Wild Wild West | RCCA | Holzachterbahn | 1394,20 m | 02:00 minutes |
| | Batman la Fuga | B&M | Inverted Coaster | 780,00 m | 01:15 minutes |
| | Superman / la Atracción de Acero | B&M | Floorless Coaster | 1200,11 m | 01:55 minutes |
| | Stunt Fall | Vekoma | Giant Inverted Boomerang | 367,00 m | 01:32 minutes |
| | | | | | |
| Total | | | | 18114,36 m | 54:59 minutes |