Left: The friends Ronald Schäfer and Max Eberhard
In 1999 Max Eberhard, born in 1975 and showman in the 8th generation, founded the company RCS. That year the roller coaster company Vekoma from the Netherlands sold the traveling ride Evolution owned by his father to Six Flags Great Adventure in the United States and was looking for somebody do construct it there. Eberhard realized that he found a gap in the market and specialized in constructing and dismantling roller coasters and other rides - in a time when many manufacturers sourced out subtasks like steel construction or the assembly of the attractions.
One year later Ronald Schäfer, who can look back on 20 years of experience as a showman, joined in. The two friends are a well-rehearsed team: While Eberhard is responsible for order acquisition, administration and establishing the construction sites, Schäfer´s job starts on location: "We trust each other blindly!" they tell unanimously. They have a permanent staff of 15 workers. Each of them has his special subject, from welding and electrical equipment to precisely shunting the trailers. "But we already had up to 36 people on different sites at the same time." says Max Eberhard. His team has constructed more than 50 rides worldwide so far.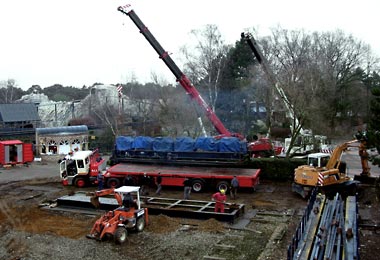 Overview
| | |
| --- | --- |
| | Official website of RCS |

Besides reliable and experienced workers especially the equipment is the vital asset of RCS. Apart from two 30-ton-cranes there is a HIAB on an own truck available. One of the cranes is equipped with an additional unit for cage usage, and the HIAB was upgraded with a wireless remote control. In addition, there are four trucks and four trailers. To complete the pool RCS owns two magazine containers and two for tools. "I have a tool fetish." Eberhard declares with a broad grin. "There is no special tool in our field we don´t have." One of those is a special press that locates the track segments in position for bolting them together, or a device to burst non-detachable nuts without damaging the screw thread. "We inspect and repair our vehicle fleet ourselves. And I set a high value on the appearance of our equipment."
If there is a ride to construct, the manufacturer or the new owner contacts RCS. Considering the constructional drawing a time schedule and a cost estimate are made. "The plans can be called my homework." says Ronald Schäfer. "On my desk there is already a roller coaster for the US." More can´t be drawn from him. "Our clients expect reticence as well as professionalism on construction." And that is what they get.